FILM FESTIVAL

The motion pictures' appassionatos had the opportunity to enjoy the latest 8-th, traditional FFF film festival, organized by the Faculty of Philosophy from Ss. Cyril and Methodius University in Skopje, in cooperation with the Cinematheque of Macedonia, the University of Audiovisual Arts ESRA, Youth Cultural Center- Skopje, Macedonian-American Alumni Association MAAA, and the Publishing House "Az-Buki".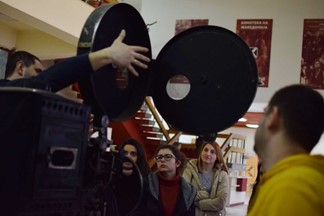 The famous Swedish film director, writer and producer Ingmar Bergman once said that the "film is a dream; no art passes our conscience in the way film does, and goes directly to our feelings, deep down into the dark rooms of our souls." And indeed, we have felt a lot during those couple of days during the spectacular program of this film festival and on the top of it, we were fully conscious of the film as a beautiful fantasy and its dream-like effect on our souls.

Within the educational program of this years' festival edition, students from 16 high schools from all round Macedonia, including Skopje, Bitola, Veles, Negotino, Ohrid, Sveti Nikole, Bogdanci, Kumanovo and Shtip had the pleasure of attending and at the same time enjoying the projection of the John Ford's cult western drama "The man who shot Liberty Valance", the black and white classic from 1962, starring James Stewart and John Wayne. After the movie projection, the students had the opportunity to express their creative writing skills and thus receive an award (in a form of scholarships, philosophical/film literature, Macedonian film DVD releases and so on) for composing an essay on a philosophical topic such as: "Liberty Valance: the right to use power or the power of the righteousness?"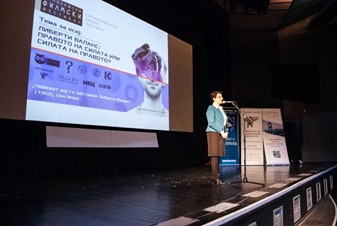 Segments of the educational program entitled "(FILM)PHILOSOPHY FOR CHILDREN" "WHAT IF THE WORLD WAS TRANSPARENT?– A SIMPLE GUIDE FOR SPREADING PHILOSOPHICAL WONDER IN THE CLASSROOM" included key note theoretical lecture by the special guest speaker from Denmark, the philosophical counselor and practitioner David M. Larsson, in the area of the discipline called Philosophy for Children and its meaning worldwide. Philosophy for Children, sometimes abbreviated to P4C, is a movement that aims to teach children reasoning and argumentative skills.

Furthermore, the interactive part of the festival incorporated workshops for teachers, students and young researchers interested in the development of critical reflection among the children of very young age, even toddlers, by using children's literature, games and audiovisual material or short animated movies. The workshop Philosophy for Children, which has been world-widely promoted by UNESCO as a discipline, encompassed 20 participants and it was the very first workshop for children of such format organized in the Republic of Macedonia.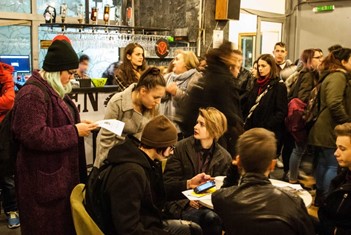 As part of the program, there was an event organized by the NOVA International School in Skopje for practical demonstration of the methods for the Philosophy for Children concept, with a particular focus on primary school pupils of second and third grade.

In the second section of the festival, supported by the Macedonian-American Alumni Association MAAA, there was a closed type projection in the Pocket Cinema of Youth Cultural Center- Skopje, envisaged as a meeting of philosophy through the film for the youngest film lovers, aged 8-9, which was the first of the kind in the country. After the short animated movie projection, the moderator, Mr. Martin Popovski, PhD, applied segments of the experimental film-philosophy technique on some of the topics present in the film with a group of children from the local school, thus inspiring creative discussion and critical reflection.

The festival program was nicely rounded with the projection of the Iranian movie "Borderless" (Bedone Marz, original title) by the director and screenwriter Amirhossein Asgari from 2014, a memorable, anti-war parable with a plot evolving round the lives of two kids, main protagonists, who meet in a "no man's land" on a grounded ship at the Zero Point border between Iran and Pakistan, touchingly pointing out the senselessness of war.



Tatjana Srceva-Pavlovska