POST-COVID DIGITAL SOLUTIONS
The project Best Digital Solutions for Overcoming Covid-19 Pandemic Challenges was part of the Covid-19 Regional Coordinator project, and was supported by the US Embassy, with the aim to help the Ministry of Health in the fight against the pandemic and the consequences from it. In close collaboration with Seavus Education and Development Center, the Macedonian American Alumni Association opened a call for best digital post-covid solutions. The goal of the initiative was to encourage the youth to apply with creative ideas connected to helping certain social groups to overcome the consequences of the crisis. Out of eight teams which applied, three were awarded vouchers (of 3000, 2000 and 1000 euros) for best project ideas at the award ceremony held on 15th December, 2021. The winner was Razgovor.mk (https://www.razgovor.mk), an online platform created to provide help for people with mental health issues by connecting them with licensed psychologists. The second prize was awarded to the team which invented AMA, or the Artificial Medical Analysis, a method for analysis of the medical conditions of the Covid-infected patients and defining the most frequent causes of death. The third prize was awarded to the project Box2Help (https://ways2help.us/en/), an online platform which enables people to help those in need by purchasing food for them or paying their bills. The awards were handed by the Chargé d'Affairs Eric Meyer who underscored that the youth in North Macedonia is "ready to compete globally, using innovation, hard work, and desire to make a difference."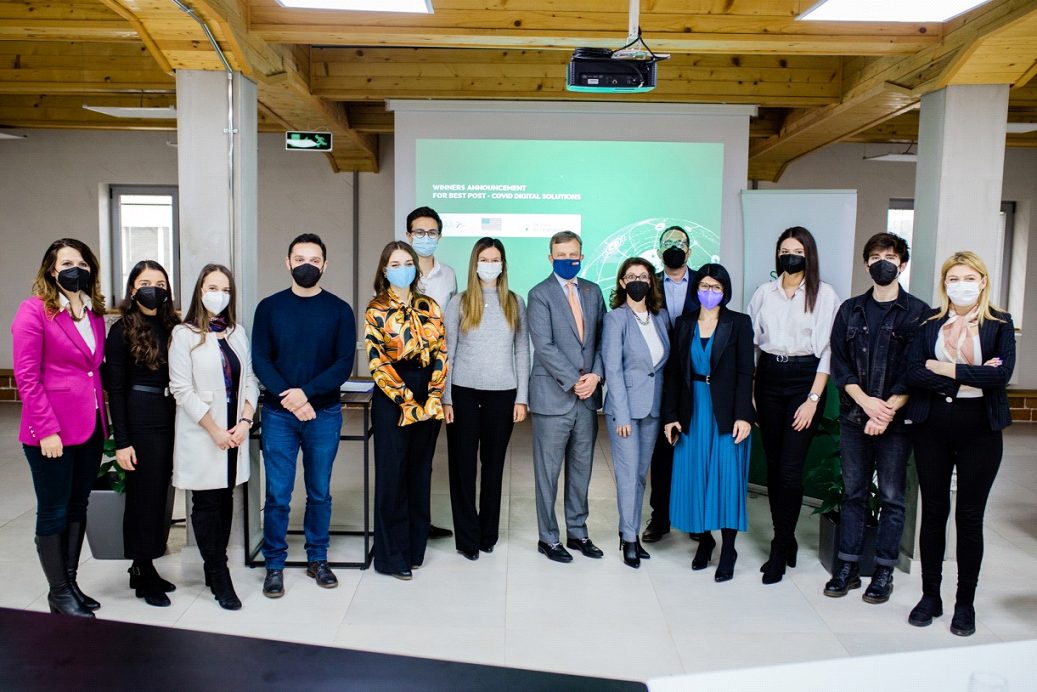 After the awarding ceremony, we interviewed the three teams and these are the answers they have provided:

Could you please describe your project to our readers?

Razgovor.mk: Razgovor.mk is a behavioral tele-therapy marketplace which connects mental health professionals with people who need them. Unlike other companies who focus on helping the user find a therapist, we help the therapist find a user. Users can browse psychologists, see details and read reviews about them, ask them for a short written consultation, pay and execute a session through our mobile app. Moreover, we created the first ever digital mood journal in Macedonian language. Users can choose to be completely anonymous. The psychologists have complete control over their pricing, schedule and overall profile. They can also choose the communication channels that they are available on. Moreover, we create a preference based feed of users who are asking for help and they can choose who they want to contact.

AMA: AMA (Artificial Medical Analysis) is a next-gen technology supported by artificial intelligence, machine learning and time series. The purpose of AMA is to clarify the real cause of death in corona positive patients. It can be used in hospital managements, insurance companies and epidemiological statistics. Additionally, our goal is to make AMA able to work after this situation with COVID-19 passes, i.e. to unify the processes so that it can be used in the future for other diseases and viruses. Тechnology like AMA backed by artificial intelligence can be very helpful in the early stages of virus detection, as simulation models can be used to hypothesize possible outcomes.


Vesna Ivanovska
General Manager of SEDC and Program Manager of Seavus AcceleratorMember of MAAA and Alumna of Tech Innovation and Entrepreneurship, Professional Fellows Program (PFP) – World Chicago & US Department Program (Chicago, Illinois & Washington DC)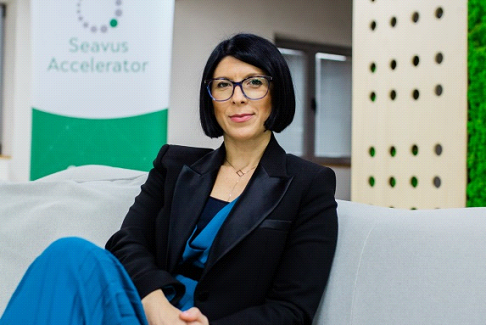 In Seavus, what drives the company's spirit is "innovation", so we are constantly trying to practice what we preach and to spread it among younger generations through our educational and startup-support programs and projects.
The Joint Call for Digital Post-Covid Solution, initiated together with MAAA, was exactly one of the projects we expected to implement to trigger action from young and future entrepreneurs in a completely different way. As I pointed out during the ceremony, in difficult times, people normally tend to find an excuse for unachieved goals, but innovative, entrepreneurial minds see the problems in crisis as a challenge and new opportunity. We were lucky that our Call for Digital Post-Covid Solutions inspired these bright people to apply and share with us their projects. I am sure that very soon, they will bring into life these valuable ideas and as Seavus Accelerator, I could promise, we will be here to support them. We are proud to be part of the project and we hope that our contribution and dedication in mentoring the winning teams will set a good example to other business factors in the industry.
Box2Help: As mentioned above, Box2Help aims to connect donors and vulnerable families who need help. Through the platform anyone can easily, without spending much time and effort, with only few clicks, donate food and hygiene packages to those in need. There would be several types of packages that could be donated. Families (anonymously) would be posted on the platform, with their life stories and accordingly the donor would be able to choose where he/she/it wants to donate the package. Once the donation is made and the transaction kicks in, the purchased package would be delivered directly to the family. The payment would be made on an official and dedicated e-paying system and the money would be spent on e-shops which have their own delivery system around the whole country.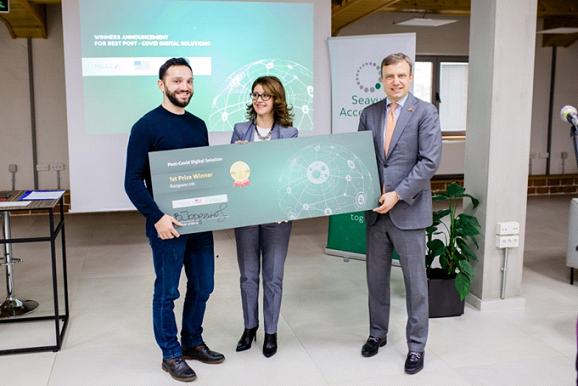 Georgi Mihailov, Financial Management graduate
Filip Bujarovski, Harvard CS graduate
What is the project's aim and has it already been put in practice?
Razgovor.mk: Our mission is to enable people to live healthy and happy lives. Razgovor.mk is the first step in that direction, and with it we aim to raise awareness of the mental health issues, combat the stigma around mental health and to create digital economic opportunities for the licensed psychologists in Macedonia. Our project has already been put to practices and we have 35+ psychologists who offer their services. Moreover, there have been 3400+ booked sessions and hundreds of people started the process of getting better. Our platform also generated 20k+ Eur of income for the psychologists.

AMA: The purpose of AMA is to facilitate the final decision of doctors in defining the cause of death in COVID positive patients. Additionally, technology like AMA needs a longer period of time and more finances to develop. The basic processes for accessing patient information on which models are to be made have already begun. After a period of preparation for developing models based on real cases, our plans are to apply to European calls in order to develop further with a help of a consortium partner. In the meantime, the website is under construction and it will be put in practice in a short period of time.

Box2Help: The purpose of Box2Help is to provide an easy and transparent way to donate packages - food and hygiene products while using the advantage of the digital era to decrease one of the major global shortcomings - the hunger. Although Ways2Help platform is in place with paying electricity and water bills feature, however Box2Help module is in development phase.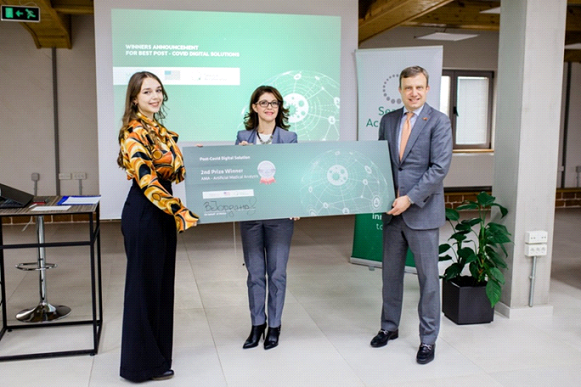 How can the society benefit from your project?
Razgovor.mk: Our product will help battle the stigma around mental health by making it accessible and almost free for anyone who needs counselling. We hope to make a positive impact on millions of people worldwide and enable them to live happy and healthy lives.

AMA: АМА will contribute a great deal to the scientific and medical field. The primary focus of AMA is to clarify many dilemmas about the cause of death of corona positive patients, which will yield results of the scientific medical research. The final results will be widely distributed among the masses of people to raise awareness and pay attention to prevention! Our second target are hospitals and insurance companies, known as the B2B segment, where AMA will be able to fulfill the needs of doctors, medical staff & insurance appraisers.

Box2Help: We are hopefully aiming to zero hunger in our community. Furthermore, we are making the first one-stop platform, while building one of the biggest humanitarian communities by promoting the solution on social media, since it is the most powerful weapon and could save the world, only if it's used for spreading powerful and impactful messages. Increasing social awareness that poverty is all around and emphasizing that everyone could make an impact, even with small contributions for a better tomorrow, for us, is the ultimate goal.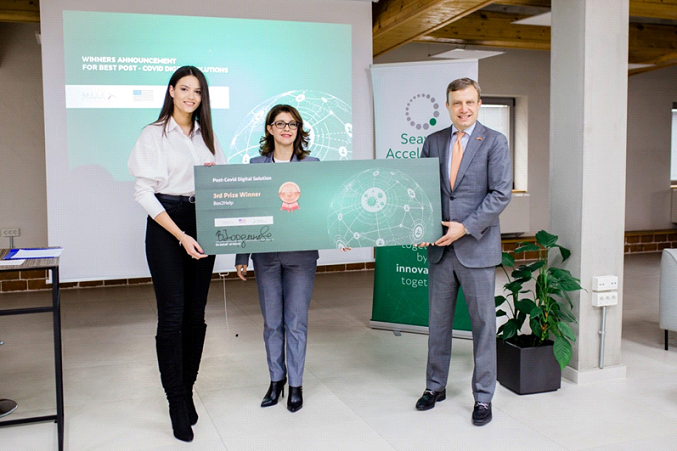 Aleksandra Manolcheva - Database Engineer
Andriana Ilievska - IT Manager
Marta Tolevska - Software Engineer
Bojan Angjeleski - Software Engineer


How do you plan to invest the awarded prize money?



Razgovor.mk: The awarded money will be invested in alignment with our mission. One part of it will help us further develop the product, and one significant part of it will be used to offer free counselling sessions to young people who cannot afford it.

AMA: All the awarded prize money will be used to research and develop the basics of AMA. After laying the foundations, our next goals will be to sign partnerships with leading companies in the medical sector and together as consortia to apply for development funds. AMA is a technology, and the development of technologies requires a longer period, especially because the target is not focused only on our country, so stay tuned!

Box2Help: We plan to invest the money in human and material resources that we would need to develop this feature on the platform. We are also investing in sponsored ads to advertise our brand while helping as many people as possible, zero hungry families and million satisfied and fulfilled donors. We are planning to purchase the necessary digital tools and essential licences that would make the implementation possible.




Author: Zorica Trajkova Strezovska